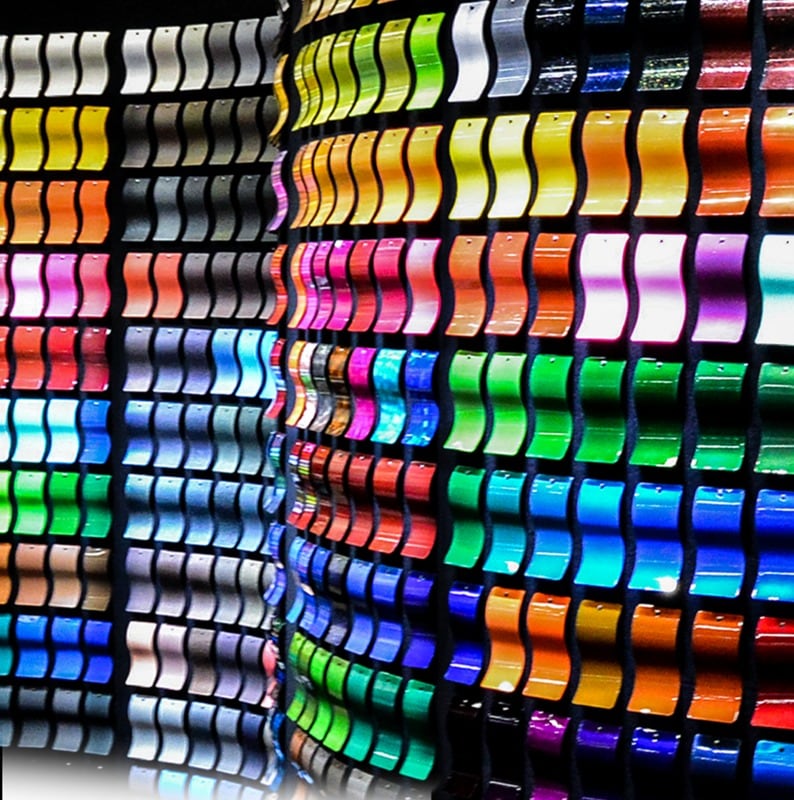 We Have Made Finding a Color Match For Your Project Easier Than Ever!
Prismatic Powders proudly offers a custom color matching service. We have successfully matched and databased 1000's of colors for our customers. If you have a color that you cannot find an existing match for, please use our color matching service by calling or emailing us with any color match inquiries at 866-774-7628 or colormatch@prismaticpowders.com.
Your color match begins with the Prismatic Powders Quick Search Service. There is a $25.00 non-refundable charge for this service due prior to starting the Prismatic Powders Quick Search Service. We will search through our extensive color selection where we will choose the closest match, then send you the color swatch or swatches of those best matches. We will ship color swatches via Next Day Air. This is the quickest way to determine if we have what you need for your project.
If our initial search does not produce an acceptable match, then a new color formula may be in order. Complete our Color Match Request Form. When your color match request has been submitted, we will contact you for payment of the fees required up front. Be sure to include your phone number and email address on the form. There is a $500.00 non-refundable charge for this service due prior to starting the process. We cannot guarantee an exact match, but we will get as close as we are able. We will ship a sample panel via Next Day Air once the reformulation is complete. If the color panel is accepted, a 1lb. sample of powder will be made available. This measure is to ensure you are completely satisfied with your color match. If you wish to receive your article back, there will be an additional charge for shipping which will be determined on part size.
Color matches can take up to 6-8 weeks to complete. There is a 6lb. minimum order upon color approval. Color matches requiring a formula change cannot be returned due to the "one-off" nature of the color.
The Prismatic Powders Color Match Service is intended for color matching services only. Specific performance aspects of the coating will not be available in the 6-8 week time span. Complete performance data such as UV, Cross Hatch, Impact or Corrosion Resistance will not be available until our standard lab testing has been performed; which takes considerably more time.
If specific performance data is requested or required, additional time will be necessary to complete the testing. Please contact our Color Match Representative with your requests or for more information.
All items in the request form must be completed for consideration for your color match. If you have any questions regarding any of the color matching services, please feel free to call us.
Once you have reviewed the form and it is completed, you are ready to start this process. Please send a copy of both pages to colormatch@prismaticpowders.com or ship it with your item that you need color matched.
You can also find our color match form on our website under the RESOURCES tab at the top of the page. Select the Documents tab > Other Media Resources, then click on the COLOR MATCH FORM icon. Please print this form, COMPLETE it, and send it with the item you want color matched to:

Ship to:
Prismatic Powders
Attn: Color Match Department
7050 6th Street
White City, OR 97503